UPDATE: We are sorry, but CodeTwo Public Folders mentioned in this article has been discontinued. You can check the list of currently available CodeTwo products here.
Your team works on multiple projects, but how do you share ideas, documents and opinions? Do you have to attend daily meetings in order to exchange information with your team members? Do you run around like a headless chicken trying to find out who has an important document? Or are you snowed under with hundreds of thousands of emails with different versions of one document? CodeTwo Public Folders is a unique program that allows you to share Outlook and Windows files between multiple users over any network in real time.
Share Outlook with your team
When you're a busy manager, one of your biggest challenges is keeping everything together and up to date. CodeTwo Public Folders is a powerful application that's up to the task. It lets you synchronize and share Outlook e-mails, contacts, calendars, tasks, folders and documents, as well as Windows files, all in real time and with everyone in your company, no matter if they work in the same office or in a different city. All this, without the need to purchase Microsoft Exchange Server.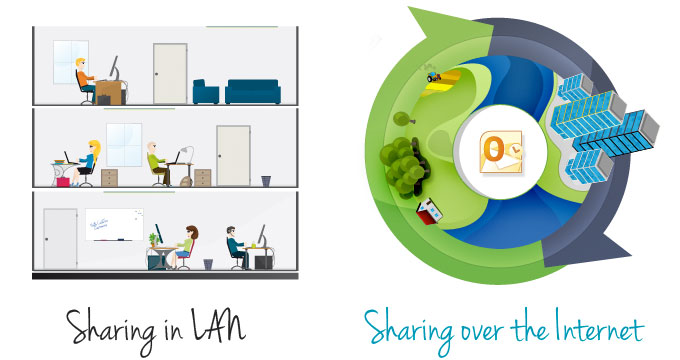 Real-time automatic syncing
By using low level system libraries and interfaces, CodeTwo Public Folders is able to achieve extreme efficiency, and even though it is closely integrated with Microsoft Outlook and Windows, it does not slow down their work. Outlook sharing and Windows files synchronization occurs immediately after any change is made in a shared folder. This process is always automatic and transparent to all users. CodeTwo Public Folders lets you choose if the synchronization between your computers takes place in a local network only or via the Internet. This solution is not Cloud-based, so there are no intermediary servers and off-site data centers that host any of your information. Moreover, CodeTwo Public Folders allows you to work either online or offline. In periods when you don't have network access, all changes you make in shared folders are saved locally and once you go back online, all data is automatically synchronized with other computers. CodeTwo Public Folders also offers dedicated applications for Android and iOS systems, so you can synchronize your shared Outlook tasks, calendars and contacts with your mobile device and work on them wherever you are.

Share files and folders from your computer without the Cloud
CodeTwo Public Folders is not only an Outlook sharing application. It is equipped with the File Sharing App, which supports secure file transfers between multiple computers in a network. This application works similarly to the popular file sync and backup Cloud-based solutions but it is not a Cloud drive as it keeps your files only on your machines. You can sync up documents, photos, videos and anything else you want. Since your data is not stored anywhere outside your computers, and no one other than your team can access and read it, you can also share sensitive information, without having to worry about security issues. Watch how to easily sync and share your files with others:
CodeTwo Public Folders can also be used as a project supervision and management tool in the company. Thanks to features like task, calendar and file sharing, you will know at a glance how work on a project is progressing and you will be able to easily check the availability of your team members. In order to manage your team even better, you can use the free Outlook add-in – CodeTwo Task Workflow.

Task Management
CodeTwo Task Workflow is an easy-to-use task management assistant. It helps you create, monitor and track your team's tasks in MS Outlook. This program automatically integrates with your Outlook and adds its own task pane to your task windows and a bunch of additional buttons on their ribbon. The task pane will let you easily and quickly assign people to given tasks, select and edit sub-statuses, enter time and effort estimates, and manage notifications. Any changes to your tasks can generate automatic email notifications. They are sent to all people involved in a given task so you are sure everyone gets a heads-up and no task ever slips through unnoticed.

No matter if you are a medium or small company or just a bunch of friends working on a project, CodeTwo software is a perfect solution for online group work!
Key features of CodeTwo Public Folders:
creating shared calendars and assisting in planning appointments,
building a  common database of contacts and address books,
sharing mail with multiple users,
group-work on projects and tasks,
sharing personal folders with other users,
sharing libraries of electronic documents,
creating electronic message boards and discussion groups,
ability to work offline,
sharing documents using the File Sharing App, without using Cloud services.
Find out more about CodeTwo Public Folders

Key features of CodeTwo Task Workflow:
creating and managing tasks – from simple to-dos to complex task groups to agile estimating and planning (e.g. SCRUM),
assigning, monitoring and tracking your team tasks in Outlook,
synchronizing Outlook tasks in real time (via CodeTwo Public Folders or Exchange server),
generating automatic email notifications and task statistics,
seamless Outlook integration.
Find out more about CodeTwo Task Workflow