Taking into account the fact that email signatures are an important part of any business visual identity, it seems to be crucial to prepare them in a professional way. Perhaps in most organizations, email signatures are managed by administrators as only they have appropriate rights to provide any changes on the server e.g. setting up transport rules. However, what if they prefer to delegate this part of their duties to someone else, namely a marketing representative?

Email signatures managed by Marketing Department
This seems to be a clever idea, especially when a company needs a professional email signature, and marketing is the most suitable department to complete this task. Who would better know how to prepare a good-looking email signature if not a competent person knowledgeable about the marketing domain? Administrators could simply free themselves from this responsibility of visual identity of their company and take care of technically important task in the organization. However, even if it is an appealing idea to carry it out, there might be some problems you might need to overcome.
Marketing representative vs Administrative permissions
In Exchange Admin Center (EAC) you can assign Transport Rules role to a specific person. It means that this person will be able to manage not only rules responsible for company email signatures but all the transport rules in an organization. This, however, may cause administrators unwilling to provide non-technical users with such rights. There is a risk that some important settings may be changed, unintentionally or accidently.
Unfortunately, it seems that there is no other native option that could allow a non-it user to manage email signatures for the whole company with limited access to other transport rules at the same time. At this point, you can abandon this idea or give a non-native solution a try.
Manage email signatures using a third party tool
If managing email signatures by a non-admin user seems to be so troublesome to be done natively, you can try using a third party tool such as CodeTwo Exchange Rules Pro. This program allows you not only to design organization-wide email signatures but also to control the whole email flow in the company, e.g. it can forward or block certain messages, strip or dump email attachments or detect sensitive content. One of its features is the possibility of managing access rights to rules.
Thanks to this program, end users can be granted access rights to rules in the Administration Panel of the software where they can create highly customized email signatures in the built-in editor. At the same time, those users will not be able to manage other functionalities of the program. Once the access rights to rules are granted, a marketing representative can manage email signatures from an Administration Panel installed on any other machine (even a workstation) in the company.
Let's take a closer look at this option. In the Administration Panel of the software, under Access Rights tab, you can manage access permissions.

When you launch the program for the first time, the option: Rules Access Rights Management will be disabled. You need to just check the box next to this option and submit changes to switch Rules Access Rights Management on.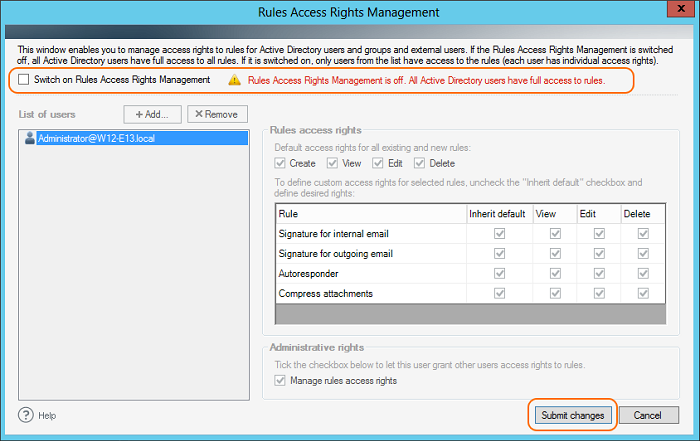 Now you can add domain users, domain groups or external users from the marketing department who will be responsible for creating and managing email signatures in the organization. To do that you need to use the Add… button in the List of users section.

When you click on the selected user under List of users, you will be able to manage Rules access rights specifically for that person. He or she can be granted full rights or only selected ones e.g. rights to Create, View, Edit or Delete selected rules.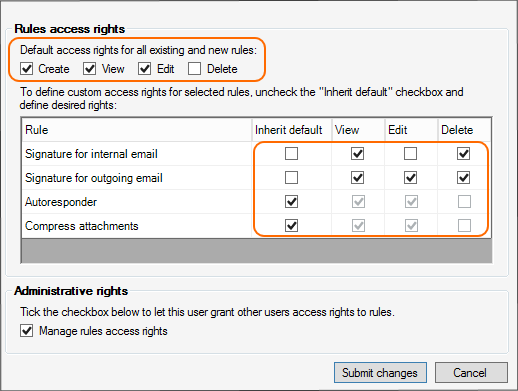 There is also an option to grant the selected user some administrative rights. Thanks to that, the non-admin user such as a marketing representative, will be able to grant access rights to other users in the organization.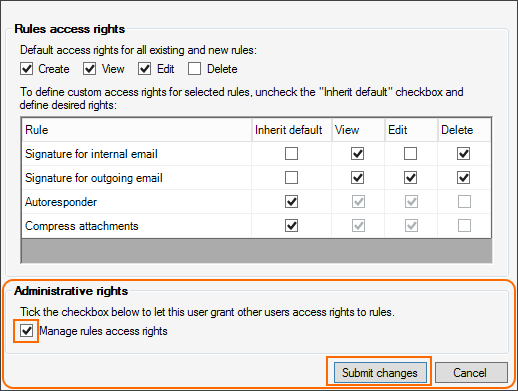 Once the access rights have been delegated to the marketing persons, you need to install the Administration Panel on a workstation in the marketing department so that they can start managing email signatures. When the user who has access rights will open the Administration Panel, he or she should already see the list of rules they can modify.
That's it! From now on, a marketing representative can create and manage fully professional organization-wide email signatures. At the same time, the administrator can forget about this duty and take care of more technically demanding tasks.
Where to go next:
Find out more about managing access rights
Learn more about CodeTwo Exchange Rules PRO
Download a free trial and test managing access rights in your organization