Here's an interesting video that we came across on the Internet. Adam Cogan, Chief Architect at SSW, Microsoft Regional Director and 16-time Microsoft MVP, discusses what makes a great email signature and what are your options if you want to create and manage signatures for an entire organization. And his tool of choice is none other than CodeTwo Email Signatures for Office 365!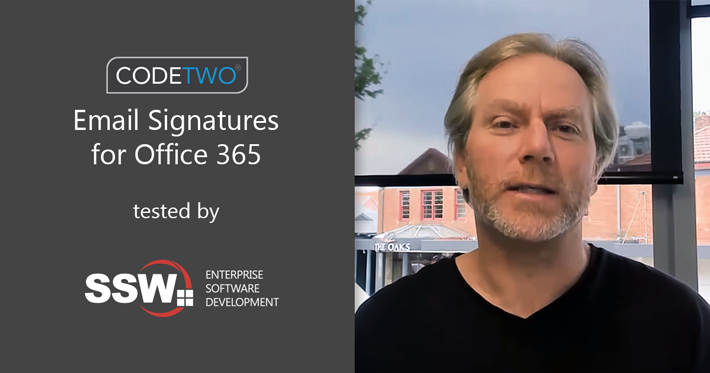 Take a moment to watch this short tutorial where Adam shows how easy it is to create professional email signatures for Outlook and mobile devices using our email signature management software:
It's always so exciting for us to see our products in action. Thanks, Adam!
We also can't help but recommend the SSW TV channel on YouTube, where you'll find Adam talk about Microsoft technologies (Azure, Microsoft 365, SharePoint and .NET Framework, among many others) and interview Microsoft employees, experts and organizations that use Microsoft on a daily basis. A definite subscribe for developers and IT specialists.
More customer testimonials
If you want to read more stories of customers who deployed CodeTwo Email Signatures for Office 365 in their organizations, check out this page. In there, you can also directly access user reviews and see what experts say about our cloud email signature manager for Microsoft 365.