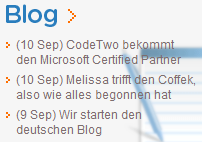 Just to let you know that we have launched the German blog for our German-speaking customers a few days ago. You will find there the latest information about our programs, updates and what's going on in CodeTwo in general. Everything in German of course, so if this is the language you prefer to use, don't forget to visit Codetwo-Blog.de regularly. If you want to be sure you don't miss anything, simply subscribe to the blog's news feed and let the RSS reader do the job for you!
In case of any technical or sales inquiries, feel free to use the Live Chat, which from now on is also available on our German website. Our German-speaking customer support is always willing to help you out …auf Deutsch natürlich!
Other contact options for German-speaking customers
German Blog and Live Chat Launched!
by
Gniewko Oblicki