We know exactly how difficult it can be to perform complete migration in an Exchange-to-Exchange scenario. Things get even more complicated when the source and destination servers are located in separate forests, or when it comes to migrating from Exchange 2003 directly to Exchange 2013. Having all these difficulties in mind, we developed and launched our Exchange Server migration tool back in May 2013. Our goal was to deliver software that can be helpful for an administrator performing Exchange Server migration. What we came up with is a migration tool that allows for quick and hassle-free mailbox migration between Exchange Server forests.
Download free migration guide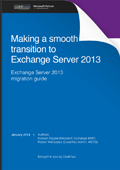 Migrating Exchange Server isn't just about moving/copying mailbox data. Especially when upgrading to Exchange 2013, an administrator has to take care of many other things, like hardware setup, server infrastructure design, new Exchange Server installation and configuration and so forth. Bearing all that in mind, our Exchange Server specialists teamed up with Konrad Sagala (Microsoft Exchange Server MVP) to create a PDF migration guide covering all the difficult aspects of upgrading to Exchange 2013. Our goal was to give you as much useful information as possible about migration planning and making a smooth transition to Exchange 2013. Did we succeed? Find out yourself!

The free paper in PDF consists of several parts that, we believe, will give you an overview of activities that need to be done before, during and after the migration process. We also included the results of a short survey we conducted at the end of the last year showing the concerns of Exchange Server administrators about moving to Exchange 2013.
Inside the paper you will find:
The survey results about other admins' concerns about moving to Exchange 2013
An article by Konrad Sagala (MS Exchange MVP) about environment preparation and Exchange migration planning
Detailed instructions on how to migrate from Exchange 2003 directly to Exchange 2013
A migration checklist containing all actions that need to be done during the migration, arranged in chronological order
Get your free copy of the PDF Exchange Server 2013 migration guide!