The idea of auto-responders is not new but it turns out most of us don't know how to use them properly, safely and, first and foremost, how to configure a server (or an email system) to send email auto replies to selected recipients or for particular addresses.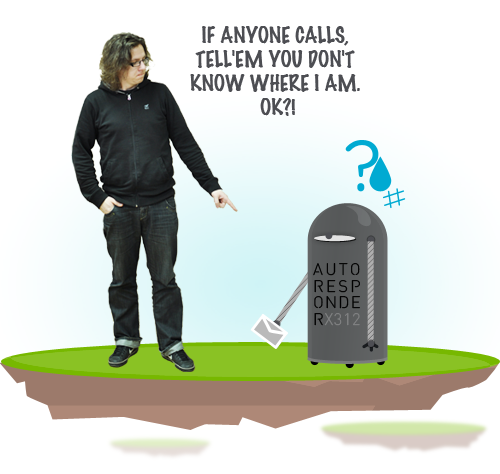 What are email auto-responders?
Email auto-responders are email replies sent automatically by servers when original recipients are unavailable or have to answer thousands of emails every day. Generally, mail auto-responders are created by (or for) people who are very busy and cannot read and write emails, are out of the office, on a holiday leave or no longer work for a given company. Frequently autoresponders are used in customer support or online sales services to instantly reply to all messages sent by clients or potential business partners. These types of auto-responders mainly are used to inform customers that their emails have been received and will be processed and answered anytime soon.
Smart marketers, on the other hand, use email auto-responders to run online courses or marketing campaigns. How is this possible? Well… before they manage to reply to any message, their mail system sends an auto-reply with marketing offers, attached documents and cooperation opportunities. A great number of companies use email auto-responders also for follow-up marketing purposes to increase their business reliability and automation. It's all about money of course.
Examples of auto-responders
There are many types of email auto-responders. Most of them are standard, polite, business style autoreplies like the one below:
I will be out of the office starting 11/12/2011 and will not return until 16/12/2011. For anything urgent please contact Tom or Jerry, or call me on my mobile.
A typical sales auto-responder looks like this one:
Unfortunately we are currently out of the office and your email will be answered on Monday. If you have any sales inquiries, feel free to call our toll free number: 555 567 567.
This is an example of a tech-support auto-reply:
Your query has been received by our Customer Support Team. We will contact you as soon as possible, but not later than within one business day.
Your support case number is [#10731]. When referring to this case in the future, please make sure this number is included in the subject of your messages. Use this number also when you call our Customer Support Team.
In the meantime, you can have a look at the user manual for the software, browse our Knowledgebase (www.codetwo.com/kb).
Marketing auto-responders may look like this one:
Thanks for contacting us. One of our consultants will contact you within 24 hours. Attached you will find a PDF brochure with our latest and hottest products. (Attachments are added to a message)
More creative people who need to compose their personal auto-responder often break the mold and go further than this. Here's what I've found:
I'm currently away. In case of emergency, call 911!
or
I'm in hospital. When I get back, please refer to me as Kathy instead of Robert.
or
I get too many emails these days. Your email has been deleted. Please make sure to resend it on March 4th. I might read it then.
All in all, you can let your imagination soar when creating email auto-replies. Just make sure people don't get offended too much when they read them.
How to create email auto-responders on Exchange?
If you are a one-man company, you don't need to create email auto-replies centrally on server. If you are a bigger enterprise, the creation of auto-responders on Exchange is a challenging task as it requires writing complicated scripts which scarcely ever work the way you want. Therefore many Exchange admins abandon the idea of creating auto-responders managed centrally on the server and whittle one by one in their users' mail clients, which definitely does not solve the problem.
Currently, the best way to create auto-responders on Exchange Server is to use a third–party software. CodeTwo Exchange Rules Pro has been created to make generating email auto-replies on Exchange as easy as falling of a log. By installing this Exchange Server add-on, you get a simple to use email rule editor which allows you to create email auto-responders either for the entire company or selected messages or users in 2 minutes. You can either use templates prepared by CodeTwo or create your own auto-replies from scratch using an integrated editor. To create your own Exchange auto-responder, you can use a default Sales auto-responder rule and modify it to meet your requirements.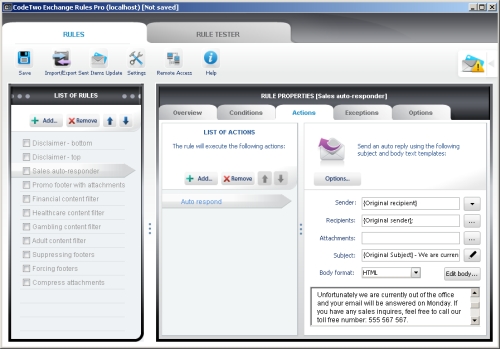 You can also create a new auto-reply email rule from scratch. To do this, create a new rule in CodeTwo Exchange Rules Pro, go to the Actions Tab and add Auto respond action. Afterwards, define the subject of the auto-replied message, its senders and recipients. You can also create a folder with files that will be added as attachments to your automatic reply.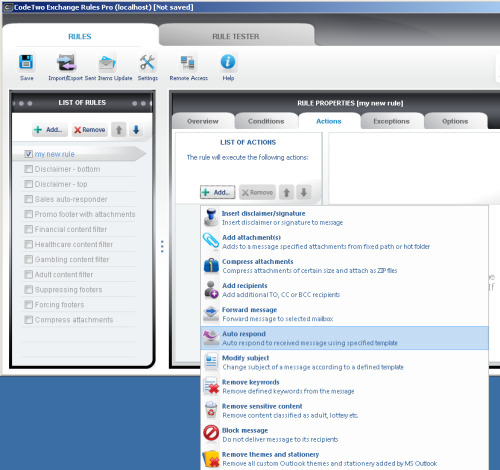 Finally, you can edit the body of your automatic email reply – the editor is easy to use and will let you create a well-formatted HTML or neat plain text message in a minute.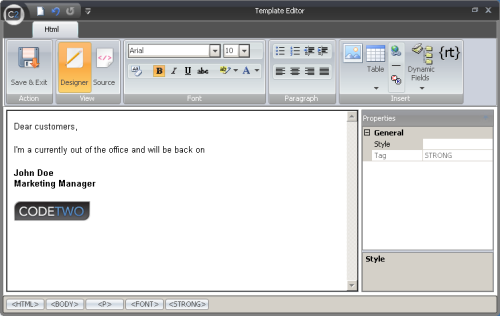 Furthermore, CodeTwo Exchange Rules Pro enables you to create auto-responders send on behalf of people who are either out of the office or are no longer working for your company and their Active Directory addresses do not exist.
What can go wrong with email auto-responders?
The most common issues connected with auto-replies are email loops. An email loop starts when one sends a message which is then bounced back by an auto-responding system. If the first sender also has an auto-responder, the message will be replied again and the never ending loop will be created. Loops are dangerous because they can get server blacklisted pretty quickly. CodeTwo Exchange Rules Pro has an email loop protection for auto-responders.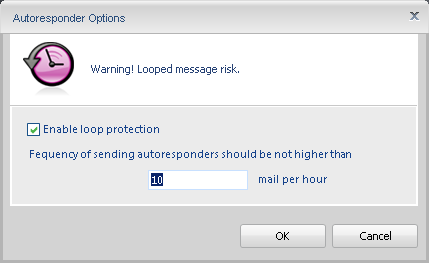 What else can CodeTwo Exchange Rules Pro do?
CodeTwo Exchange Rules Pro is not only created for email auto-responders. It can do much more than that. It's an email flow management system which can also send auto-forwards, reroute or block messages, add signatures, disclaimers, categorize emails, remove confidential information, enhance baner marketing campaigns and many more. It's also perfect for email policies.
See more features of CodeTwo Exchange Rules Pro:

Learn more about CodeTwo Exchange Rules Pro
Download a free trial of CodeTwo Exchange Rules Pro
Visit CodeTwo Official Website