CodeTwo software solutions are inspired by users' individual needs as well as our personal experience. Our main goal is to create usable applications that simply solve users' problems instead of creating new issues for them. We do have our own imagination of how our programs function in customers' environments but we also like to verify this vision with real-life examples. That's why we have recently interviewed some of our customers – to find out how they utilize our programs and what problems they faced prior to installing CodeTwo software. All these individual stories can now be found in the Case Study section on each product page, but let's take a look at a short summary here.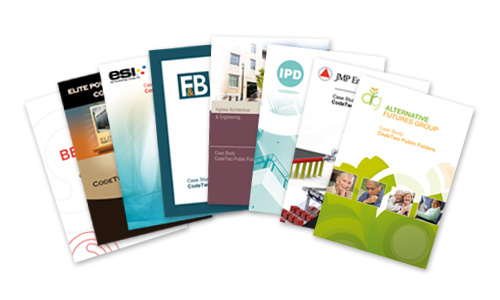 CodeTwo Exchange Rules Family – finally solve the signature issues

CodeTwo Exchange Rules, as well as CodeTwo Exchange Rules Pro are designed to simplify the work of Exchange server administrators. Although these two applications differ between one another, especially as far as complexity and scope of features are concerned, a lot of our customers use both of these programs for one main purpose – as their central email signatures and disclaimers managers.
Before installing CodeTwo software, almost every CodeTwo customer we recently contacted faced similar issues: incomplete information and inconsistent formatting in users' email signatures and unprofessional look of corporate emails. Luckily, the implementation of CodeTwo programs quickly made it possible for them to force a unified signature template to the entire Exchange organization. Follow the links below to find out more.
See case studies for CodeTwo Exchange Rules 2007 and 2010
Read about CodeTwo Exchange Rules Pro implementation stories
CodeTwo Exchange Sync – sync public folders with mobile devices

CodeTwo Exchange Sync streamlines data synchronization between Microsoft Exchange Server folders. Thanks to the various synchronization types it offers, the program opens completely new collaboration options to companies running Microsoft Exchange Server. However, there's one use case scenario that our customers find especially useful – synchronizing Exchange public data with smartphones and tablets. Although, mobile devices do synchronize themselves with Exchange mailboxes via Exchange Active Sync, they can't sync data from Exchange public folders.
Read how CodeTwo Exchange Sync helped our clients to solve this problem
CodeTwo Public Folders – easily share Outlook between many PCs
Working on shared company contacts, coordinating tasks with others, scheduling vacations and publishing information about public resources availability in Outlook are only a few examples of how people all over the world use CodeTwo Public Folders to increase productivity an work efficiency in their teams. The stories we gathered on our website clearly show how flexible this tool is, and how small and mid-sector companies can adapt it to their own needs. Although we can't point out one particular leading use-case scenario for this program, there's one feature of CodeTwo Public Folders almost every customer we spoke with stressed – it's simplicity. The essence of this opinion is contained it one of our customer's quote:
"For all intents and purposes, it's like having an inexpensive and simple-to-maintain Exchange Server. Since our email is POP-based, we just need shared resources, like Calendar and Contacts. With CodeTwo Public Folders, we have exactly that."
– Tom Guild, SoundTrax Recording Studios
Find out more in CodeTwo Public Folders Case Study
Give feedback
If you are interested in other opinions on CodeTwo software or would like to share your comments with us, feel free to visit the Testimonials pages that can be found on each product's page. We always look forward to your feedback.