Our most recent program, CodeTwo Outlook Sync has already proved its quality in Microsoft-designed testing for capability and reliability in Windows 7 environment. We can now officially label this product with Windows 7 Logo that ensures all users of this operating system that CodeTwo Outlook Sync will work like a charm on their machines.
Let's make just a quick reminder of what you can use this program for:
to synchronize MS Outlook data between your desktop PC and laptop;
to work in Outlook with your co-worker on the same tasks and use common calendars, e-mails, contacts and documents;
to back-up your Outlook to another machine.
If you need a totally free, user-friendly program to sync your calendar and contacts with another person without Exchange and with no time limitations, go to the Download page of CodeTwo Outlook Sync and get it for free. To synchronize all Outlook data between two computers, order a full version of the program. And finally, if you need a reliable program to synchronize multiple computers in your network, check out CodeTwo Public Folders.
Have you already used any of these programs? Do not hesitate to let us know your thoughts, suggestions or feature requests. There is a special widget on our home page (see image below) that lets you quickly communicate with us. As our clients, you can also take a part in our exclusive Testimonials Contest that lasts only by the 13th of May 2011. Thank you for your comments in advance. They are always the most valued feedback for us.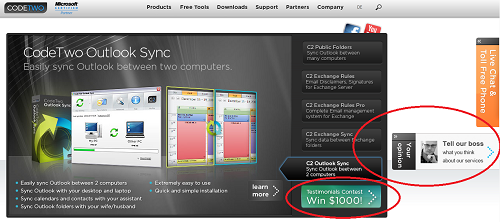 CodeTwo Outlook Sync – sync Outlook between two PCs
CodeTwo Public Folders – use it in your business