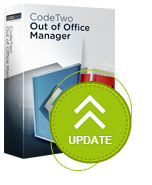 UPDATE: We are sorry, but CodeTwo Out of Office Manager, mentioned in this article, has been discontinued. If you are looking for an alternative for Exchange Server, take a look at the auto respond feature in CodeTwo Exchange Rules Pro.
We have just released a minor update to CodeTwo Out of Office Manager – the application which will let you control Automatic Reply policies and settings for the whole Exchange organization. The update contains 2 fixes related to code optimization and listing of users with same first and last name (details on the product's version history page).
We recommend that users download version 1.0.8 of CodeTwo Out of Office Manager from our website and perform an update by installing it on top of their current versions. The update is free for all users and will not change any previous settings or licensing information. For more on performing updates of CodeTwo products consult this article.
Should you have any questions, please contact us anytime Monday through Friday (we are open 24h a day).
Download CodeTwo Out of Office Manager 1.0.8
CodeTwo product updates explained
CodeTwo Out of Office Manager FAQ