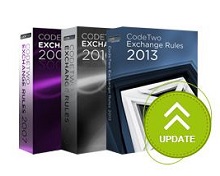 We have just released new updates for products from the Exchange Rules family (email signature managers for Exchange 2007, 2010 and 2013). The updates are identical for all products from the family and contain 2 new features and 3 fixes, all of which were suggested or reported by our users – thank you and keep those emails coming!
The new features are:
advanced user search options in nested AD groups;
custom time setting, after which no action is performed on a message.
For more information consult the latest entries on the Exchange Rules family products version history pages (e.g. CodeTwo Exchange Rules 2013 version history).
We recommend that all users update their copies of CodeTwo Exchange Rules programs by downloading the latest setup files via the below links…
…and installing the new version on top of an old one. Read more about how to update CodeTwo products here.
The update is free for all owners of CodeTwo Exchange Rules 2013 licenses, CodeTwo Exchange Rules 2010 2.x licenses and CodeTwo Exchange Rules 2007 3.x licenses. Owners of other CodeTwo software licenses may be required to provide a fee. For more on our upgrade/update policy please consult this article.
In case of any additional questions make sure to contact us. We are open 24 hours Monday through Friday.
How to update CodeTwo products
Questions? Contact us!
CodeTwo Exchange Migration – fastest way of getting to Exchange 2013