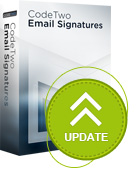 We've just released an update to our Office 365, Google Apps and hosted email signature and disclaimer manager, CodeTwo Email Signatures.
The main change included in version 1.6 is the use of the OAuth2 protocol to connect with Google Apps. If you are using CodeTwo Email Signatures to manage your Google Apps signatures, we strongly advise you to update your installation to version 1.6 (instructions below). Failure to update will most likely result in the inability to introduce changes in your Google Apps signatures and disclaimers.
To update your installation of CodeTwo Email Signatures, simply download the new setup file, and install it on top of your current version.
NOTE: The update will detect existing Google Apps policies and prompt the user to set them up anew (instructions available within the application).
The update is free for all users.
View the full list of changes and fixes included in CodeTwo Email Signatures ver. 1.6
Download CodeTwo Email Signatures ver. 1.6
How to update CodeTwo software