UPDATE (August 11, 2016): This program is already out of beta. Get a free trial here.
Up until now Office 365 admins who wanted to centrally manage email signatures in their organization had 2 choices: use Exchange Online mail flow rules, or spring for a 3rd party application.
However, while both solutions had their advantages, they also had major flaws – no 3rd party application fully supported mobile phones and non-Outlook/OWA clients, or could process emails based on multi-level conditions; Exchange mail flow rules, on the other hand, couldn't insert signatures directly under the latest reply/forward and didn't allow for using embedded images.
We thought that Office 365 admins deserved a way out of this conundrum. That's why we've developed CodeTwo Email Signatures for Office 365 – a Cloud-based Office 365 email signature management service which:
is centrally managed;
supports all types of standalone, web and mobile email clients;
can insert signatures directly under the latest email in a thread;
can embed images in email signatures;
allows for configuring detailed email processing scenarios;
sports a WYSIWYG HTML editor;
automatically integrates with your Office 365 organization (no manual send connector setup!)
How it works?
CodeTwo Email Signatures for Office 365 uses the Office 365 email relaying mechanism to route emails outside of your organization, then it processes them and returns them to your Office 365 tenant. Keep in mind that, because our software uses Microsoft Azure infrastructure, your mail does not leave Microsoft servers when it is being stamped with signatures. After an email is returned to your tenant, Office 365 picks up where it left off and sends it to its intended destination.
The below diagram illustrates the whole process: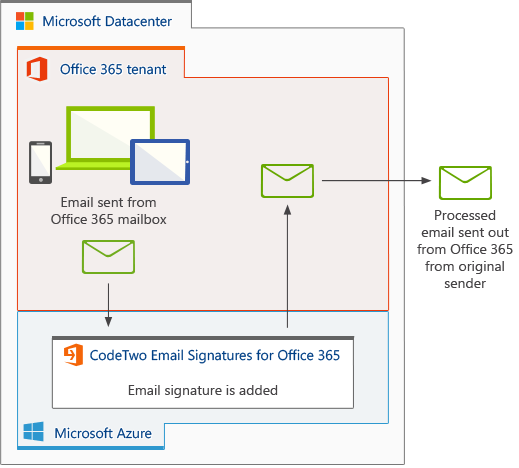 Beta program
Before we release CodeTwo Email Signatures for Office 365, we want to put our new product to the ultimate test – the user.
To become a CodeTwo Email Signatures for Office 365 beta tester, sign up via this site. We will soon send you an email with instructions on how to start your trial and report your findings.
By taking part in the CodeTwo Email Signatures for Office 365 beta program you not only get the chance to shape the software, but you can also earn significant discounts or even land a free subscription!