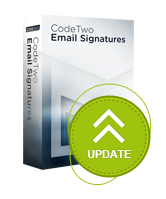 We have just released an update to CodeTwo Email Signatures. In version 1.4 you can find a bunch of fixes for most common problems, such as:
Support for Exchange Attributes in Office 365
Improved mechanism of listing Google Apps users
Improved mechanism of setting the default signature in the Outlook policy type, and more…
For full list of changes, please go to the official release notes.
How to update?
To update the program simply download the latest version from CodeTwo website and install it on top of the existing installation. All your licensing data and program's settings will remain unchanged.