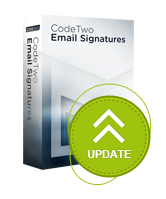 We have just published an update to CodeTwo Email Signatures. Version 1.3.0 introduces a number of improvements we've been working on lately. We recommend that you install this version on top of your current installation. It's free of charge for all license owners.
The biggest changes concern the way the Client Apps work. Starting from this release CodeTwo Email Signatures generates several types of MSI packages that can be distributed among the client PCs. Please refer to this table to see which packages are the most suitable in your client machines configuration. Furthermore, version 1.3.0 introduces two modes of installing the Client Apps: per user and per machine. It is also no longer required to run the Client App with PC Administrator's rights.
For full list of changes, please check the version history.
Download CodeTwo Email Signatures 1.3.0
Read how to update CodeTwo software