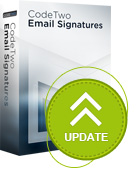 The new version of CodeTwo Email Signatures, our server-less Outlook, Office 365, OWA and Google Apps central signature manager, is already available for download on our website. The update contains 3 minor fixes related to problems reported by users – as always, we are very grateful for your feedback! For more on the update make sure to visit the CodeTwo Email Signatures version history page.
We recommend that users update their CodeTwo Email Signatures versions by installing the new version (which can be downloaded directly here) on top of their pervious installations. For more on how to update CodeTwo products go to this article. The update is free of charge for all CodeTwo Email Signatures license owners and will not affect their settings or license status.
In case of any questions related to the update or software, contact us anytime during the work week – we are open 24 hours, from Monday through Friday.
Download CodeTwo Email Signatures 1.2.7
CodeTwo product updates explained
Contact CodeTwo