We have just released updates to our Office 365 and Exchange mailbox backup solutions – CodeTwo Backup for Office 365 and CodeTwo Backup for Exchange.
This update provides some major fixes to programs' functionalities including:
changes to the Backup Job Time Filter (filter parameters were not applied to selected users)
improvements to the restore functionality (fixed problem with long-name and deeply-nested folders)
corrections to the notification system (no warning was displayed when the connection to Exchange was lost)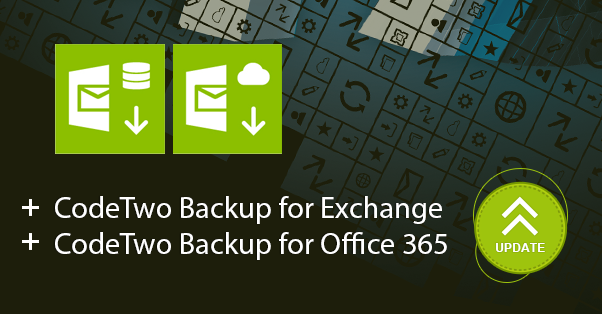 Version 1.5 also introduces tweaks made to the Jobs tab. In the main Jobs window, each currently selected job now shows good and bad news sections. This helps the person who administers the program to view alerts about the backup, archive or restore processes directly within the selected job. Additionally, all statistics related to the particular job are now listed at the bottom of the Jobs window: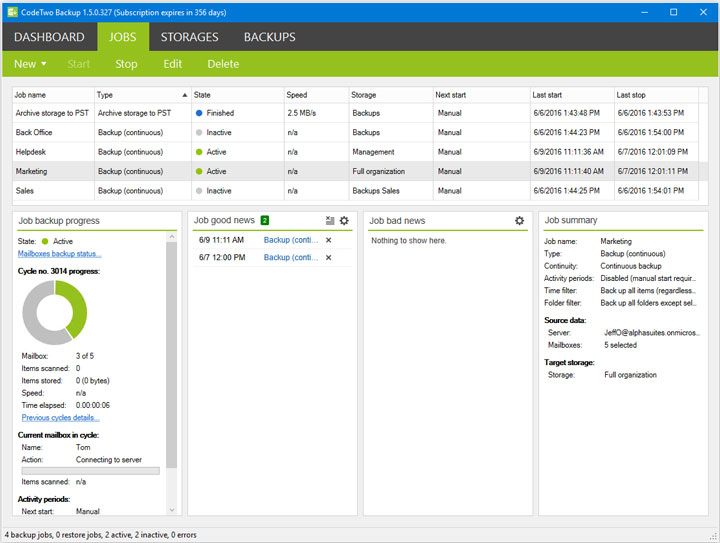 We believe the new way of data presentation allows for more detailed and accurate analysis and job management.
How to download CodeTwo Backup version 1.5?
To download the latest version, use the links below:
This update is free of charge for all license holders.
For more information about this update, visit the version history page of CodeTwo Backup for Exchange and CodeTwo Backup for Office 365.
If you have any question, feel free to contact us – we are available 24 hours a day, from Monday to Friday.