We are pleased to inform you that CodeTwo Backup for Office 365 in now listed on Microsoft Azure Marketplace. This means you can now use a pre-configured Azure virtual machine with our app to back up Exchange Online mailboxes, SharePoint Online sites, as well as OneDrive for Business and Teams data. It only takes a few minutes to deploy the VM in your Azure environment.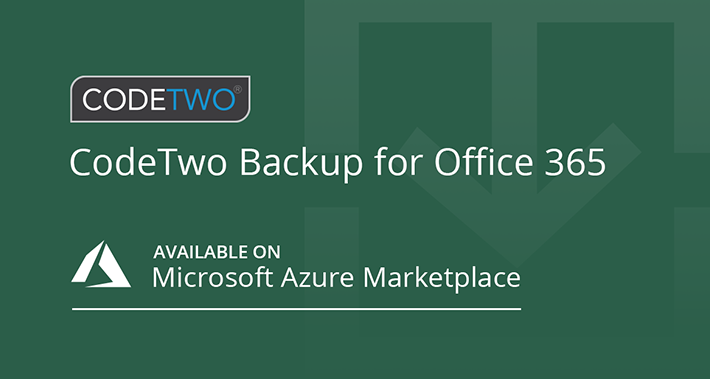 The Azure Marketplace is a world of proven solutions for Azure, offered by certified software vendors only. CodeTwo, a Microsoft Partner with Gold competencies in Application Development and Cloud Platform, lists some of their products there as well. CodeTwo Backup for Office 365 is our latest offering. The software meets the most rigorous requirements set by Microsoft for software developed for their platforms and is fully optimized to work with Azure virtual machines.
Our Office 365 backup solution allows you to:
run continuous or scheduled backup tasks,
easily search and browse through backed-up data,
restore data to their original location or to any Office 365 tenant,
configure retention policies for backup storages,
and more.
The deployment of CodeTwo Backup for Office 365 in Azure gives you access to your backed-up data and lets you manage all backup jobs from any computer that has internet access. To make it happen, simply visit the Azure Marketplace and click Get it now. This will allow you to create a virtual machine in your Azure portal based on a clean installation of Windows Server 2019, with a 30-day trial of CodeTwo Backup for Office 365 installed and ready to work (if you don't have an Azure account yet, you can create one for free here). You can use the recommended virtual machine for the deployment, which meets all the hardware requirements of the program, or select one with specification that best suits your needs. Keep in mind that the trial version of the program lets you back up all the data you want. The only limitation is placed on the restore feature, which can be used to recover up to 5 items per a backed-up folder. CodeTwo Backup for Office 365 is offered in Azure Marketplace under the BYOL (Bring Your Own License) model, which means you can buy the product license key and activate the program at any time.
See also: