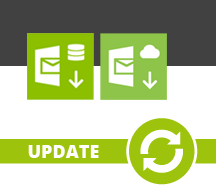 With the latest version 1.4 we have prepared a bundle of new functionalities and fixes to our backup software which deals with easily customizable granular and incremental local backup operations of mailboxes on on-premises Exchange and Office 365 platforms.
In the newest versions of CodeTwo Backup for Exchange and CodeTwo Backup for Office 365 we have focused on further UI developments, users will discover the following improvements:
both programs now restore sizes and positions of windows customized by users, customizations are kept even after restart,
users can now sort all data in columns in all windows of both programs,
a new indication icon has been added to scheduled jobs that will be automatically launched in the future,
job properties can now be edited without putting jobs on hold.
The most significant bug fixes include better service in case there is a shortage of free disk space, the proper display of currently backed up mailboxes, more precise good news reports generation, and others.
To get the latest version of a chosen application, please select one of the following links:
To learn more about all improvements and changes in the newest version of the program, please visit the version history page of CodeTwo Backup for Exchange and CodeTwo Backup for Office 365.
The latest release is free of charge for all license holders.
In case you have any questions, don't hesitate to contact us. We are available from Monday to Friday, 24 hours a day.