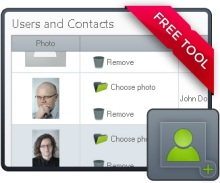 Since the launch of CodeTwo Active Directory Photos we have received a lot of positive feedback from you. It is really motivating to hear that our tool is so widely used and that it helps you perform your admin job better. At the same time some of you mentioned some improvement suggestions that would make the program even more useful. We took a closer look at them and decided to include some of the remarks in the new release. And here it is. The new version of CodeTwo Directory Photos includes new fields in filters and import/export mechanisms you requested during the past weeks. Feel free to download it at no cost from our website!
Download CodeTwo Active Directory Photos 1.1.2
What's new in version 1.1.2?
It is now possible to import, export and filter users based on the following fields:
Employee ID;
Employee number;
Logon name (sAMAccountName);
Logon name (userPrincipalName).
How to update the program?
Just in case of any doubts… We don't provide automatic updates for this tool. To update your program, the new version needs to be downloaded and installed on top of the existing installation manually.
How perform updates of CodeTwo software
What is CodeTwo Active Directory Photos?
CodeTwo Active Directory Photos is a free tool for system administrators that makes it extremely easy to upload users' photographs to Active Ditrectory. It saves a lot of time and effort, since the import is performed by means of an intuitive GUI. It also supports bulk imports and has some basic built-in photo editing features. See the video below to find out more:
Should you have any further suggestions on how to improve our software, let us know. We always read your messages and appreciate your help!
Learn more about CodeTwo Active Directory Photos
See how to combine the program with CodeTwo Exchange Rules Pro
See other tools for Exchange Server administrators