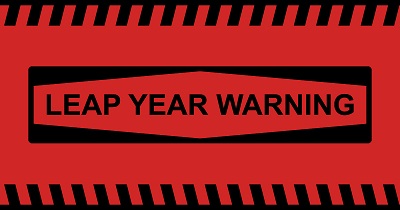 Attention users of CodeTwo products for Office 365:
Please be advised that products mentioned above were designed for operation in standard 365-day years.
Leap years, such as the current one (2016), contain a non-standard number of 366 days, which leaves 1 day WITHOUT SUPPORT.
We are working to fix this issue before the next leap year. In the meantime, we encourage users to prepare for the inconvenience by selecting 1 day during the year 2016 and suspending operation of your CodeTwo product/s for the duration of said day.
To facilitate the selection process, we have prepared a convenient list of recommended CodeTwo-less days, paired with suggestions of responses to complaints about lack of CodeTwo service.
System Administrator Appreciation Day (2016-07-29)
Response: SysAdmin Day comes only once a year. Please respect it.
International Beer Day (2016-08-05)
Response: I'm unable to respond at this time due to ongoing International Beer Day celebrations.
Halloween (2016-10-31)
Response: The CodeTwo service is dead today.
Any Friday the 13th
Response: I knew something like this was going to happen today!
International Procrastination Day
Response: I'll get right on it!
Opposite Day
Response: Must be Opposite Day.
—
Thank you for understanding and have a great day!