Just a few weeks after releasing a few new products for server administration we have another great news to share. Last Friday 5 CodeTwo applications for Exchange Server and Office 365 administrators successfully passed Microsoft Platform Ready tests and received the prestigious Certified for Windows Server 2012 logo. The logo confirms that our software meets the high compatibility standards Microsoft sets for applications operating on Windows Server 2012 and was created in accordance to recommended practices. The test also certifies that the products listed below fully support Windows Server 2012 Hyper-V environments. Thumbs up!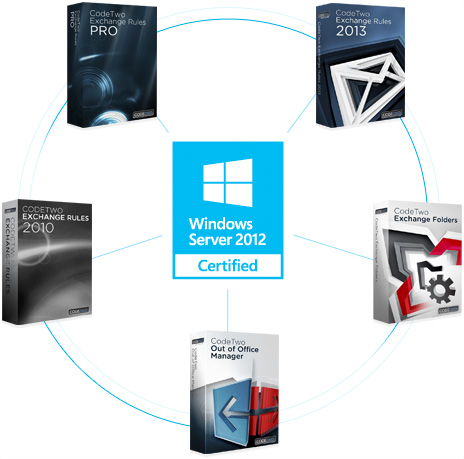 Here's the full list of our newly certified apps:
The family of CodeTwo products designed for Windows Server, Exchange and Office 365 keeps constantly growing. Two weeks ago we launched a new professional tool for Exchange-to-Exchange migrations and there's more to come very soon. Keep checking on us here on the blog and on our Facebook page. We'll keep you posted!