There are many great features Exchange Server comes with out of the box. Transport rules (mail flow rules in Exchange 2013) are a great example. They provide the administrators with a lot of useful options that they potentially may need during their work. They also help them keep the company mail in compliance with internal policies and general law regulations.
Over the past releases of new versions of Exchange Server automatic email rules evolved. A lot has changed and new options had been added constantly. While Exchange 2013 with its mail flow rules and compliance management options introduced a completely new approach, clearly some things are still missing or could work in a slightly different way. That's where the idea of CodeTwo Exchange Rules Pro emerged from. The program was designed to fulfil admins' wishes by filling some of the gaps in standard Exchange email rules and adding new possibilities as far as automatic mail flow management is concerned.
Let's take a look at the first part of automatic email actions available in CodeTwo Exchange Rules Pro and find out how they can be used in real life scenarios.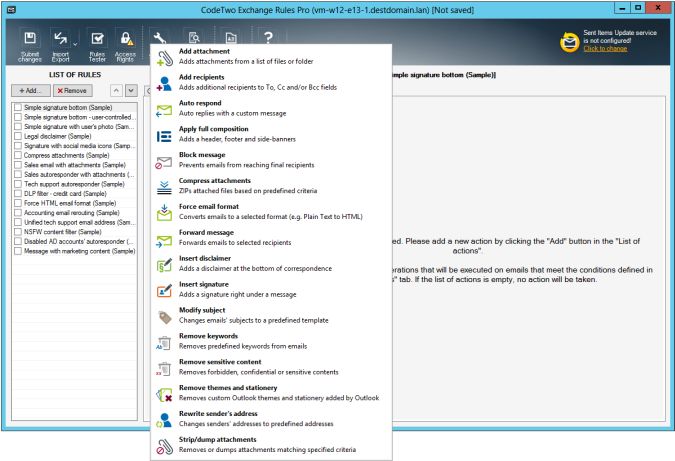 No. 1: Add attachment(s)
Why should anyone need to automatically add attachments to emails on the server side? There can be many reasons for that, e.g. automating sales quotes distribution or promoting marketing content among the recipients. Combining such feature with rule-based automatic email replies gives your sales and marketing teams a great way to improve their workflow and enhance external communication with clients. Of course, this is just an example of how automatic addition of attachments can be used. One can think of his or her any individual scenario and find out how easy it is to implement having CodeTwo Exchange Rules Pro onboard.
Learn more about attachment management
No. 2: Add (external) recipients
This one sounds simple, but from the administrator's point of view it's definitely not. Adding additional recipients in To, CC and BCC fields based on emails rules can be tricky. Especially if you want to add addresses from outside the Active Directory database. With CodeTwo Exchange Rules Pro it's just as easy as typing in the email address emails should be forwarded to. What's more, when you combine this action with the large number of other conditions, options and exceptions, it opens up completely new possibilities as far as email forwarding is concerned.
Learn more about adding recipients
No. 3: Auto respond
Wait a minute… Exchange Server has Out of Office Messages, right? Yes, it does. But their purpose is only to notify the sender that the recipient is not available for a certain period of time. That's all. In addition, there's no efficient way to manage the standard Out of Office messages centrally. What's more, if you would like to fully customize the standard autoresponder's properties you are doomed to failure. Unless you have CodeTwo Exchange Rules Pro onboard.
The program will let you send automatic replies as custom messages that are fully formatted, include graphics, attachments and the sender's original message below the reply. What's more you can also customize the subject and add addresses in the To, CC and BCC fields. Last but not least, this feature also includes a built in Loop protector to prevent message wars between servers that both have auto replies set on their sides.
Learn more about autoresponders
No. 4: Apply full (message) composition
This feature can make your company emails look like perfectly optimized landing pages. The purpose of adding it to the program was to give you an easy-to-use tool for designing and deploying professional email templates with pre-defined content below, above and on the sides of the message text. Thanks to our template editor you can easily do that using ull HTML formatting, as well as graphics (e.g. logos, banners or social icons) and dynamic placeholders (e.g. users' Active Directory attributes, dates and message properties). What's more, everything can be done in a WYSIWYG editor. No PowerShell, HTML and CSS coding skills are required.
More about full message composition
No. 5: Block message
The message blocking mechanism is indeed available in the standard transport rules feature of Microsoft Exchange. However, the main point that makes a difference here, are the conditions this action can be used with. After having CodeTwo Exchange Rules Pro installed on your servers you can e.g. block messages based on the attachment size, or rely on phrase dictionaries that you can either compose on your own, or use the predefined ones included in the program.
No. 6: Compress attachments
If your message store suffers from large attachments users send and recieve, this feature can put some relief on it. The program can automatically compress attachments according to predefined criteria. This can be anything from file size or extension, to message or sender's/recipient's properties. What's more, you can zip files attached to incoming, as well as outgoing mail. Whatever suits your needs.
More about attachment compression
No. 7: Force email format
Sometimes it is required to force the email format of outgoing or incoming emails. This is often required by company/organization policy, has to be done on the server side and apply to all email clients users use. Thanks to CodeTwo Exchange Rules Pro you can easily add a server rule that will convert either incoming or outgoing mail in Exchange 2007, 2010 or 2013 from plaint text to HTML and vice versa.
More about forcing email format of incoming and outgoing mail
No. 8: Forward message
This is similar to the previously mentioned action Add recipients. Although you can set email rules automatically forwarding emails to other Active Directory users on Exchange, you won't be able to set external email addresses as a target. Luckily CodeTwo Exchange Rules Pro will let you do that with ease, based on any conditions you specify in the program. This feature also opens up a wide range of possibilities as far as data loss protection and email inspection is concerned.
More about automatic email forwarding rules
What's coming up in Part 2?
The above list is just the first part of features that's going to be presented. In the next part of the article we're going to describe the remaining options and show what they can give you comparing to Exchange standard features. The next part will cover such topics as: email signatures and disclaimers, message modification, rewriting sender's address and removing attachments meeting certain criteria. Stay tuned and come back for more soon!