Office 365 brings a brand new point of view if it comes to data sharing and cooperation. Since you can access your account from any place in the world, as long as you have access to the internet, group work became much easier.
However what exactly can be shared and synced in Office 365? Does it work the same in OWA as in Outlook?
Can I share my calendar?
Yes – in Office 365 sharing your own calendar is quite easy:
Sign in with your 365 account and open OWA (Outlook).
Open the Calendar as per the image below.

Click the Share icon and select the calendar you want to share. The sharing invitation composer will pop up.

In the Share with field type in names or emails of users, you would like to share your calendar with.

Once selected, you can assign these users with specific access rights and decide what to show them: your availability only, limited information (subject, time and location of the appointment) or all details.
Edit the subject line if you wish, then click Send.
Each of the selected users in step 5. should receive your sharing invitation now. It'll reach their mailboxes just like an ordinary email but be containing two additional buttons: one to accept the invitation and add your calendar to their view, and second to send back similar sharing invitation but for their calendar.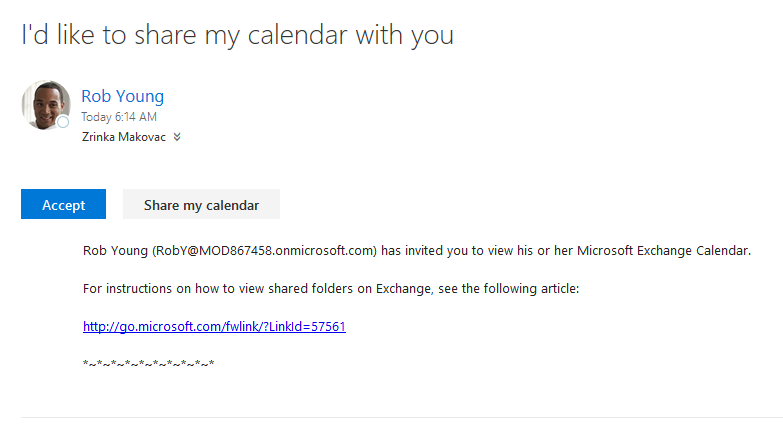 Once the recipient accepts the invitation and clicks the Add Calendar button it appears in the left pane, under People's Calendars section.
Keep in mind however that when you send such invitation to the different, non-federated organization it will contain a link just to the read-only version of the shared calendar.
Another drawback is that shared calendar is not accessible on mobile devices (unless you use mobile OWA app or open OWA in the mobile web browser).
Create Group Calendar
If you want to create one common calendar for a group of users then the solution is to use the shared mailbox functionality.
You must have administrative privileges to create shared mailbox:
Sign in with your Office 365 administrative credentials and go to EAC (Exchange Admin Center)
Click Add ("plus" icon). A new window pops up.
In the Display name type the name of the mailbox (e.g. Company Share). You can use the mailbox name also as the email address in the Email address field below.
If you wish, you can also add users to the Send as list at the bottom of the window, so they can send emails from the shared mailbox. Hit Save. After a couple of seconds, you should see your newly created shared mailbox on the list in the Recipients section, Shared tab in EAC.
Double click the shared mailbox on the list – this brings up its properties window. Click Mailbox delegation to open access rights assignment settings. Under Full Access, click the add button and select users that you want to grant full access rights to the shared mailbox.
Once you select users – click Save.
At this point, you have a shared mailbox named Company Share with a number of users that have full access to it.
To access shared mailbox the end user should do the following:
Sign in with Office 365 credentials.
In OWA click Calendar.
On the left-hand side, right-click Other calendars and from the menu select Open calendar.
In the new window type the name of the shared mailbox in the From Directory field and click search. Once the mailbox is found click Open.
Calendar from the shared mailbox should be now visible in the left pane.
The user can now create appointments in the shared calendar that are automatically visible to all with appropriate access rights to the shared mailbox. Additionally – they can modify or delete existing and create new appointments if the need arises.
Unfortunately shared mailboxes are not supported by mobile devices.
What about Contacts?
In Office 365 you can also share contacts. Steps required to achieve this are identical as for calendars described above – you can share your own contacts folder or utilize the shared mailbox capability to create group contacts folder. You can even utilize the same shared mailbox that was already created for calendars.
However, the big shortcoming is that you have to use Outlook mail client. OWA does not support contacts sharing so far – you cannot access shared contacts folder with it. The good thing is that in Outlook the shared mailbox's contacts folder appears automatically and no additional steps are required.
Similarly to shared calendars – shared contacts are not supported by mobile devices.
Sharing externally with other Office 365 organization
Office 365 allows sharing both – calendars and contacts outside your organization.
For example, if you type in the sharing invitation an email address of the external recipient, the user receives it with the hyperlink to the shared folder and can view it in the web browser (or Outlook).
Unfortunately, external users can only read/view that information – they cannot add new or edit existing appointments or contacts. That kind of interaction is available only within an organization or when two organizations are federated in a trust.
Summary
Office 365 is all about sharing. And if we talk about internal sharing, within the organization and using Outlook – it is quite flexible.
Unfortunately, problems arise if the user wants the same kind of experience in OWA or on mobile devices – here options are often limited and usually only third party apps are providing some additional functionality.
One should, however, bear in mind that the Cloud is one of the most dynamically changing environments, plus Microsoft has full control over Office 365, so the future may bring some interesting changes.
Suggested reading
CodeTwo Admin's Blog: Contacts sharing in Office 365
Help us create a great synchronization solution for Office 365