Data migration isn't one of those tasks faced by the companies on a daily basis. And the full migration of email data will probably take place no often than once every couple of years. However, there is a high chance that sooner or later you will begin to look around for a way to migrate your mailboxes. And when the time comes, many questions will arise: Should you migrate to a new Exchange on-prem or Office 365? What types of data should be migrated? Can you migrate only selected data? And most of all: how to migrate your email data?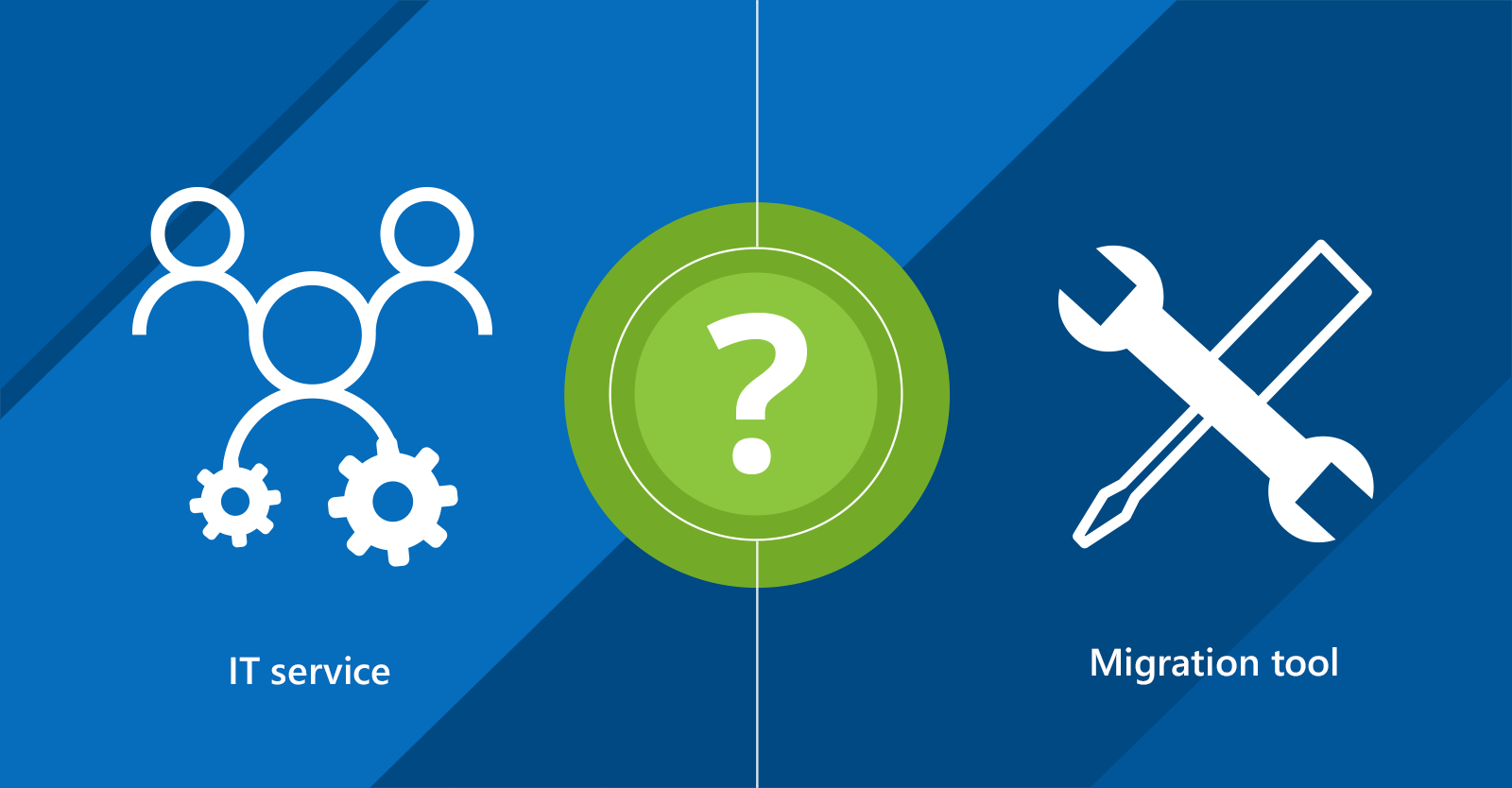 In this article, I'll try to answer some of these questions. And I'll also toss around some of the pros and cons of taking advantage of third-party companies offering Exchange migration services vs. using a migration tool by yourself or by your IT team.
Why do you need to migrate email data in the first place?
Maybe you don't – for now. However, if you're still using an old Exchange server (2010, or even 2007), there is a high chance that you are (or will be) considering improving your IT infrastructure. Legacy Exchange Servers, and Windows Servers on which they run, are no longer supported, and the end of extended support for Exchange Server 2013 is just around the corner. What does that mean? No more security updates or bug fixes from Microsoft, which makes your data vulnerable to attacks and, ultimately, may lead to its loss. Of course, another option assumes leaving your old physical servers completely and moving to the cloud (namely, to Office 365). That way you will not have to worry anymore about server maintenance, system updates or security issues.
But what if your business is using hosted email services (such as Gmail, Yahoo or Hotmail)? Should you be considering email data migration at any point in the future? That surely depends on many factors: the company's size, strategy, expansion plan, and so on. As you employ more and more people, you will probably want to have more control over emails in your company. And it would be a good idea to provide your employees with various collaboration and sharing mechanisms, such as team websites, shared folders, video conferencing, etc. In case you would choose Exchange (on-prem or Online) for that purpose, surely you wouldn't want to lose all your emails? And this is where Exchange data migration comes in.
What are your email migration options?
Once you've decided that the day has come to do something about your old email server, you should now make some final decisions. Depending on your existing IT infrastructure, or its lack, you need to decide on the destination of your data – on-prem Exchange, Exchange Online, or both (hybrid environment).
Another thing is choosing the appropriate time for the migration. The main concern here is the volume of data that needs to be migrated. One of the most popular migration methods include:
Cutover migration– which assumes migrating all data in one go. The migration process is expected to begin and complete over the weekend so that users can start using the new email server beginning Monday. However, this type of migration is recommended for small and medium-sized enterprises, or when the amount of data isn't that large.
Staged migration– can be used to migrate data in two or more stages (batches). You can, for example, plan the migration of the first batch to last for days or weeks, during which most of the data is transferred (g. the oldest data). The second batch, consisting of, for example, the emails from the last week or month, can be then migrated over the weekend, just like in the case of cutover migration. This is the best option for large companies with many users and data to migrate.
Hybrid migration– assumes splitting the migrated data between on-premises Exchange and Office 365. An ideal solution for companies that want to benefit from both environments or for organizations that look for a temporary solution before migrating entirely to the could.
Now, the question remains: who will conduct the migration process? Let's take a closer look at the most popular solutions.
Comprehensive Exchange migration services
There are companies out there that can perform the entire migration process by themselves. These companies often boast about employing IT experts who have many years of experience in the field of data migrations and who can migrate your data smoothly from any system to a new Exchange Server or Office 365. If you prefer to be given a fish rod instead of a fish, some companies can provide you all the hints regarding mailbox migrations, lead you by the hand in every step of the migration process, or even train your own IT staff, migrating only a couple of mailboxes, leaving the rest to them.
The email migration services often begin from analyzing data and end with post-migration support. Usually, comprehensive services are divided into 4 stages:
Pre-migration
This is where all your data intended for migration is analyzed, and the best migration options are selected. This is also where you choose the type of data that will be migrated (e.g. only mailboxes and contact lists). Companies offering email migration services may also prepare source and target environments and deal with any issues that may arise before the migration begins.
Migration
This stage can last even for several days or weeks, depending on how much data needs to be migrated. Keep in mind that many companies use either native migration solutions offered by Microsoft to migrate data or other commercially available third-party solutions. Some of them, however, may use their own original software.
Post-migration
Post-migration activities often include setting up mail flow through the new server, configuration of email clients and devices, testing, and staff training. If you are using some kind of CRM or ERP software, it is in this stage where your systems are integrated with the new Exchange Server and/or Office 365.
Supervision
Once the new email servers are up and running, for a defined period of time, the company that performed the migration may provide you with additional assistance related to troubleshooting and monitoring, for example if any migrated data is corrupted or missing.
Email migration tools
Of course, an experienced admin should have no problems migrating mailboxes to Exchange on-prem or Office 365. And since many companies have their own full time, in-house IT teams, why not let them proceed with the migration themselves? Especially when they have both the native Microsoft tools as well as third-party solutions at their disposal.
Native migration tools from Microsoft
Although Microsoft has provided means of migrating mailboxes and other data from one Exchange Server to another, it is quite a complex and time-consuming task. It surely involves a lot of research and scripting. There are also many limitations. For example, there is no way to directly migrate Exchange 2010 to Exchange 2019. These mail servers cannot exist in the same forest, and cross-forest migration between these two is not supported. However, you can still do it via "double-hop" migration, migrating to Exchange 2013 or 2016 first. Nevertheless, that involves even more research, planning, and resources.
In comparison, migrating to Office 365 seems to be less troublesome. Although the Exchange admin center in Exchange Online provides you with some of the necessary tools, you still need to go through many steps and configuration options. You will not escape scripting, though, for example to convert on-premises mailboxes to mail-enabled users (in case of the staged migration). There are also many limitations. Some migration types support specific Exchange Servers (e.g. staged migration only Exchange 2003 and 2007), while others have limitations on the amount of data that can be migrated (the cutover migration allows you to migrate up to 2000 mailboxes; however, Microsoft recommends migrating up to 150 mailboxes only, and less). Additionally, staged and hybrid migrations require setting up directory synchronization between on-premises Active Directory and Azure AD.
Other downsides of using the native solution are that you cannot filter the data you are migrating (you need to migrate everything) and there is no scheduling implemented – you need to start and stop the migration process manually.
Migration tools from CodeTwo
This short video explains how migration tools help to simplify the migration project:
When you need an all-in-one migration tool that will make the migration process easy as 1-2-3, CodeTwo Exchange Migration and CodeTwo Office 365 Migration are there for you. These tools were first released over 5 years ago. Ever since then, they are constantly being updated and improved. Both tools are also used by the companies offering migration services, as they have everything needed to greatly facilitate a smooth migration:
Support for the cutover, staged and hybrid migrations
Direct migration from Exchange 2010 (and newer), Office 365 and IMAP servers to Exchange 2016/2019 or Office 365
Safe (encrypted) and reliable means of data transmission, based on Exchange Web Services protocol for supporting systems. Connection over MAPI is also supported as an alternative to migrating data from legacy systems
No limits regarding the number of mailboxes that can be migrated
Built-in filters, allowing you to select data type and age that needs to be migrated
Automatic creation of mailboxes on the target server, including Office 365 licenses assignment – all in one place!
Automatic assignment of all the necessary roles and privileges necessary to conduct data migrations
And all that in an easy-to-use graphical user interface. No scripting required!
Additionally, CodeTwo Migration software comes with technical support, included in the price. It gives you 24/5 access to CodeTwo technicians by email or phone, who will answer all questions concerning these products and will assist in addressing potential technical issues.
Summary: pros and cons of both solutions
It seems that it all comes down to whether or not you have adequate skills, or dedicated staff, to perform the migration. Surely, if you lack your own in-house IT team, taking advantage of the email migration services seems like the only available option for you. On the other hand, in case your everyday IT operations are outsourced to a long-term IT services provider, you should probably start by asking them whether they are familiar with any email migration tools, such as CodeTwo migration tools.
Another problem you can stumble upon is the availability of email migration services in your area. Some companies offer in-house training and services, while others provide their services remotely only. Of course, working remotely brings about other problems (technical, usually). The good thing about these companies is that they have 24h service and support, as well as a dedicated point of contact. But the software providers, like CodeTwo, also offer similar support.
When the security of your data is your main concern, using third-party service providers can be tricky. At some point in time, you will have to provide them with the access to some of your data, or with the necessary access rights or credentials, which might lead to a data breach in case there are no data processing agreements (or similar agreements) in place. Using migration tools usually carries no such risks whatsoever.
The last but probably one of the most important factors that need to be taken into consideration is deciding which solution will be the most cost-effective for you. The most comprehensive Exchange migration services, which include pre- and post-migration activities, as well as ongoing support, are also the most expensive ones. As for CodeTwo Exchange Migration or CodeTwo Office 365 Migration, you simply buy the number of licenses necessary to migrate the exact number of mailboxes (plus 25 additional licenses in case you want to migrate public folders as well). The main advantage about this licensing system is that you pay once for every source mailbox, which you can then migrate to a virtually infinite number of target environments. That means you don't have to pay again if you decide to set up a hybrid environment somewhere in the future.
Try out the 30-day trial version of CodeTwo Exchange Migration or CodeTwo Office 365 Migration and see for yourself how easy it is to migrate your data between two Exchange environments, both on-prem and Office 365.
Useful links: