Starting with the 2010 edition of Outlook, Lync and Exchange users are finally able to have their photos displayed directly in Outlook and Lync clients in conversations. This new feature, although extremely helpful for users, brought new challenges from the infrastructure and administration point of view. We probably all know these blurry images appearing in Lync 2013 clients during the Lync call. The image distortion results from the difference between the maximum image size that can be stored in the thumbnailPhoto attribute in Active Directory (96×96 pixels) and the size of the photo in the Lync call window. Since the Lync 2013 client allows for displaying larger images, thumbnails are sometimes scaled up even to 648×648 pixels and that results in an image blur.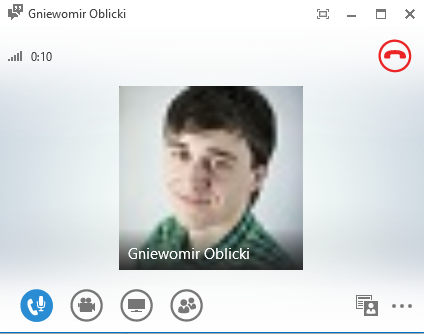 Things get better if you have Exchange 2013 or 2016 onboard, in which high resolution users' images can be stored directly in mailboxes and accessed by Exchange Web Services (EWS). The most important improvement, however, is that with Exchange 2013/2016 onboard the image sizes don't have to be limited to 96×96 pixels anymore. Since administrators are now free to use even the maximum resolution of 648×648 pixels, users' photographs can now look way better during conversations.
How to upload high resolution images to Lync and Exchange 2013/2016?
As per Microsoft documentation, the following script can be executed in Exchange Management Shell to upload a large photo to an Exchange mailbox for a single user:
$photo = ([Byte[]] $(Get-Content -Path "C:\your-photo\file.jpg" -Encoding Byte -ReadCount 0))
 Set-UserPhoto -Identity "user's Display Name" -PictureData $photo -Confirm:$False
 Set-UserPhoto -Identity "user's Display Name" -Save -Confirm:$False
*replace phrases in quotes with proper values
To verify if the large photo has been set, the user can go to Options > My picture in their Lync 2013 client and check if the new personal photo is already there. Alternatively, you can view the large image in the browser using Exchange Web Services (EWS has to be configured properly). Obviously this script would have to be modified, if you would like to use it to upload users' photos in bulk. It is also difficult to rely on scripting when you need to manage users' photos frequently. A much more effective way to manage users' photographs is to use a free tool developed by CodeTwo, CodeTwo Active Directory Photos, which lets you upload photos to Active Directory using a graphical user's interface.
Using CodeTwo Active Directory Photos for users' photo management
CodeTwo Active Directory Photos is a completely free tool for managing users' photographs in Active Directory. Thanks to this freeware application you don't have to execute any PowerShell commands to upload, change or delete users' photos in Active Directory. The program gives you all the necessary management options within its intuitive GUI. What's more important, the new updated version now also fully supports uploading high resolution pictures to Active Directory, which can be displayed in large windows of Lync 2013 clients. Uploading images to Active Directory using CodeTwo Active Directory Photos is a breeze. The program can be installed on any Windows computer that is connected to Active Directory. If you launch it from a profile of a Domain Admin it displays the list of all Active Directory users in the main window. You can easily upload, change or delete photos of any user that's on the list. The uploaded photographs are displayed in Outlook conversations, GAL lists and Lync calls. What's more, bulk uploads and using high resolution mailbox photos is also supported.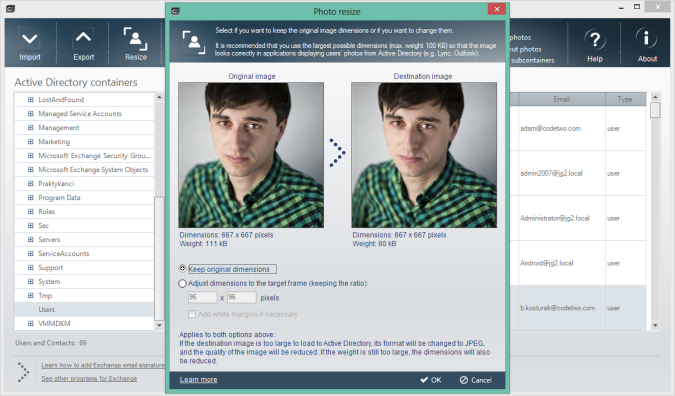 Inserting users' photos to outgoing messages
Once you upload users photos to Active Directory, you can also include them in users outgoing emails, for instance as a part of their email signature. The easiest way of doing that is to use another tool by CodeTwo for managing users' signatures and disclaimers on Exchange Server, called CodeTwo Exchange Rules Pro.