The end is near. At least the end of the Extended Support cycle for Exchange 2007. We have already mentioned it last year in Goodbye Exchange 2007, but it is high time we posted a reminder, as Exchange 2007 end of life is scheduled on April 11, 2017. This is not the end of the world. However, if you use Exchange 2007, you should consider all pros and cons of migration to a newer version. The process is not just a matter of a few clicks and even a whole month may prove not to be enough to finalize the move.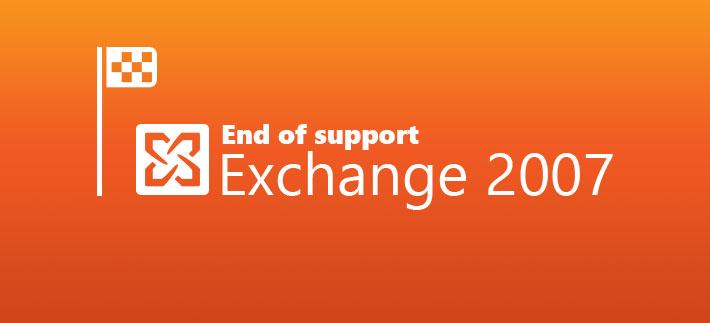 What does it mean?
Simply speaking, after April 11, 2017 you will not be able to receive any kind of support concerning Exchange 2007 from Microsoft. You will be able to ask the community, search for information at TechNet, but no new security fixes will be released and contacting Microsoft Support will not do you any good, as even paid support options will not be available. That is rather expected from the phrase Exchange 2007 end of life.
What to do?
If you decide to migrate from Exchange 2007, you may either move to Office 365, or to a newer version of Exchange. This is a huge decision, and it is hard to give a full picture in just a few words, but I will at least outline the main differences between those two choices.
Migrating to Exchange 2016
The most reasonable choice of on-premises server to migrate to is Exchange 2016. This server release is at the beginning of its support lifecycle, which means that it will offer security updates, Microsoft's help and developers' focus for the longest. There is a catch, though – direct way to perform such migration natively does not exist. In order to move mailboxes from Exchange 2007 to Exchange 2016 natively, you will have to perform a double-hop migration. In other words, you will have to migrate twice, first to Exchange 2010 or 2013, and only then to the most recent version. If you want to migrate your mailboxes without the need for the intermediary step, you will have to use a third party software, like CodeTwo Exchange Migration.
Migrating to Office 365
Have you considered moving to the cloud? Office 365 will let your company reduce maintenance and staff costs, while offering similar management scope, thanks to Exchange Online. There are also arguments against the move, e.g. you will not be able to access your emails in case your Internet connection fails. Moreover, you will not have full control over the platform itself – all updates will be installed automatically. In its on-premises counterpart, you can decide which updates to install and when.
In contrast to the former option, migration to Office 365 does not require an intermediary step. You can perform either cutover, or staged migration directly to the cloud. Still, using third party software, like CodeTwo Office 365 Migration is worth consideration, as it greatly simplifies the migration process. This tool also automatizes the migration tasks, enables you to schedule them, and leaves mailboxes available for the whole operation's duration.
The bottom line
Whether you decide to perform migration from Exchange 2007 or not, the server's end of life is a big deal. Lack of security updates is what seems to be the biggest issue. Although Microsoft server software is rather safe, even now, a month before the end of support, a pack of critical security updates have been released. Learn more about the security issues it countered.
Mind that after April 11, 2017 you will not be able to simply install an update from Microsoft and forget about the issues. Fixing and patching your server will be more troublesome. Make sure you take that into account while considering migration, to avoid regrets later.