Sent Items Update
As signatures / disclaimers are added to sent mail directly by CodeTwo Email Azure Service, they are not visible in the mailboxes' Sent Items folders. To make seeing the signatures in the sent mail folders possible, we have equipped CodeTwo Email Signatures for Office 365 with the Sent Items Update feature that enables updating the sent mail with signatures after processing by the program. Sent Items Update feature works as a separate service which is installed along CodeTwo Email Azure Service.
Info
By default Sent Items Update is disabled so needs to be enabled by the admin in the CodeTwo User Panel to start updating the sent mail.
Sent Items Update works per tenant.
To enable Sent Items Update (SIU):
Log on to your CodeTwo User Panel.
Click the cogwheel icon by the desired tenant to open Settings window.
Go to the Sent Items Update section.
Click Turn On.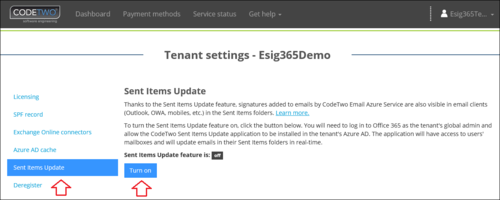 Fig. 1. Enabling SIU in the User Panel.
Log in using your Office 365 Tenant global admin credentials.
Accept granting permissions required for CodeTwo SIU installer.
Sent Items Update should start working within minutes from that point.
Important
Be aware that updating process starts after an email is passed to EOP so it may take from a few to over a dozen of seconds before a user sees updated message in the Sent Items folder.
Also note that the SIU service only updates messages in the original Sent Items folder. If a user have any OWA/Outlook rules enabled that instantly move messages from the Sent Items folder somewhere else (including subfolders of Sent Items folder) the SIU service will not be able to find and update them. If possible, execute such rules manually or with a delay to allow some time for the SIU service.
Info
The SIU service does not update messages that were sent using Send as option at all. When it comes to Send on behalf rights, SIU will update the sent items folder of a user who actually sends the message, not the one on whose behalf it is sent. See also the article on that.
Troubleshooting
In the case you already enabled Sent Items Update and the messages do not appear to be updated follow the below steps:
First, check with the recipient if the sender is getting signatures stamped in their emails at all, to rule out improper signature rules or connectors configuration as a source of the problem. Also, check the service status.
Secondly, log in to OWA to access Sent Items folder directly on the server. If you see updated messages in the Sent Items folder in OWA that means the service works properly and the problem lies in the email client.