Signatures rules configuration
Assuming you have already configured your Office 365 connectors, you can start working with CodeTwo Email Signatures for Office 365 to create rules and deploy signatures.
In the main Admin Console window (Fig. 1.) you have access to:
List of signature rules with options to add new ones (plus icon), save changes (floppy disk icon), change their order (arrows) delete them (red X) and enable/disable them (green switch).
Tabs displaying options of selected signature rules (Overview, Senders, Email direction, Design, Options).
Buttons to sign out (exit icon), access Program Settings (gear icon) and links list (three lines).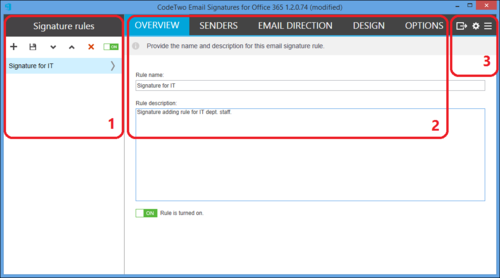 Fig. 1. Main window of the admin console.
To add a new signature, simply click on the plus icon right below the "Signature rules". If you want to edit an existing signature rule, simply click on the desired rule to select it. Both actions will display a signature name and description in the Overview tab. You can edit the signature name or the description at any time.
Important
Remember to save changes using

floppy disk icon upon creating new rules or modifying existing ones. Any changes to your rules will be applied only after saving them.
Info
CodeTwo keeps a backup of last 10 versions of your rules. If you accidentally modified or deleted your signatures or even whole rules, contact CodeTwo Support and we will try to restore them.
Switch to the Senders tab to apply the rule for the right people. In the example below (Fig. 2.) we have configured the rule to add signatures to emails sent by our IT guys.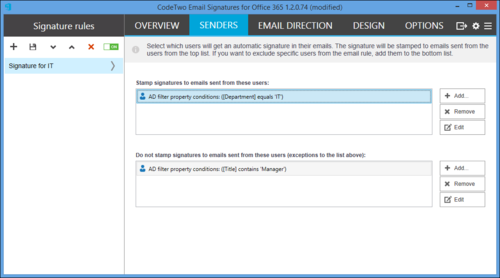 Fig. 2. Conditions tab with one condition and one exception configured.
The software knows when to add signatures because we have added Azure AD filter condition to check if the email sender has an AD field Department filled with "IT" value (Fig. 3.).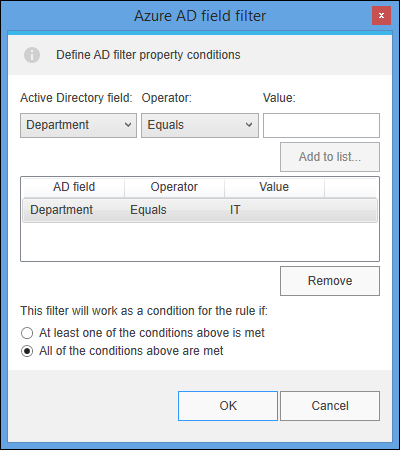 Fig. 3. Azure AD filter options.
We could, however, configure this condition differently, e.g. by selecting particular users or a group of users. The software also allows to configure rules for all users (Fig. 4.), but there is no point of doing that in this example, since we want the rule just to work for our IT department.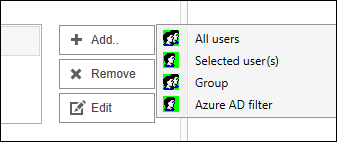 Fig. 4. All conditions options.
Keep in mind that a scope of users might also be limited with specific connectors configuration.
Similarly to conditions, you can configure exceptions. This may come in handy if you wish to apply a signature rule to a group of users but you want to exclude one or more particular users, e.g. to:
add a signature to the whole IT department except for the manager, whose signature is covered by a different rule for managers (see bottom of the Fig. 2.),
add a legal disclaimer to a whole company emails except for emails of employees from a site abroad because different laws apply there,
add signatures with marketing banners to a whole customer support department but not to emails sent by people from other departments, etc.
There is also Email direction tab that lets you decide if the signature should be applied to all emails or internal/external only (Fig. 5.),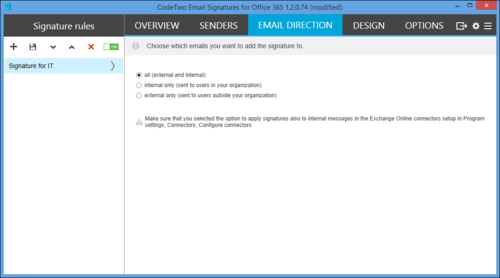 Fig. 5. Email direction tab.
Once switched to the Design tab you can see how your signature would look like in the email. Here (Fig. 6.) you can notice we have created a very simple signature that just adds a user's name, title and department name.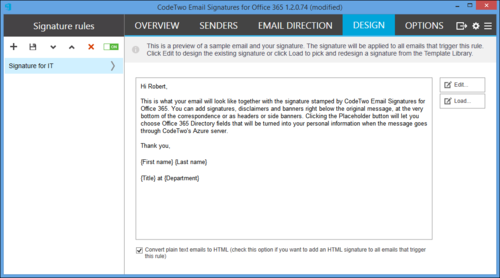 Fig. 6. Design tab, note the Edit button on the right hand side.
To create or modify the signature template, click the Edit button (Fig. 6.). This will bring up the editor. Load button will open a template library from which you can import a signature template you prepared before.
Also note the checkbox at the very bottom of the Design tab. Convert plain text emails to HTML feature is disabled by default. Enabling it is worth considering if you know some people in your organization send plain text emails. This feature will convert such a plain text emails to HTML ones thanks to which HTML signatures (instead of plain text) will be added.
The last, Options tab let you decide what the software should do depending on the fact this particular rule is or is not applied. This will be useful when you configure more rules and want to create conditional rules flow or add multiple signatures and disclaimers (Fig. 7.).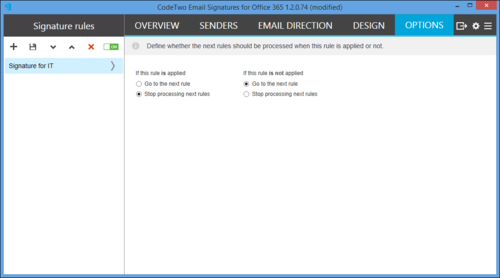 Fig. 7. Rule options.