Overview
CodeTwo Email Signatures for Office 365 is a cloud-based software for Office 365 tenants designed to add email signatures and disclaimers to outgoing and internal Office 365 emails, based on rules. It lets every Office 365 administrator create rules to centrally manage email signatures from an easy to use Administration panel, which is launched directly from CodeTwo's website. The main software engine (CodeTwo Email Azure Service) processes emails on Microsoft Azure servers and stamps signatures on the fly. This makes the software installation-free for both the administrator and the users.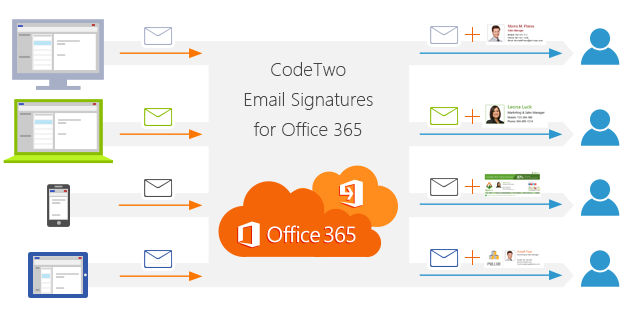 How it works
The software is a cloud-based service that resides in Microsoft datacenters on Microsoft Azure servers. During the initial configuration, the program creates connectors in your Exchange Online organization to reroute all outgoing and internal emails from your Office 365 tenant through the CodeTwo Email Azure Service for processing. When a user sends an email from an Office 365 account (all email clients and mobile devices are supported) (Fig. 1. point 1.), it is forwarded to the CodeTwo Email Azure Service, which checks emails against conditions the administrator configured (Fig. 1. point 2.), and stamps signatures if these conditions are met. In any case, the email is then sent back to the original Office 365 tenant (Fig. 1. point 3.), which delivers it to the final recipient the same way as usually (Fig. 1. point 4.).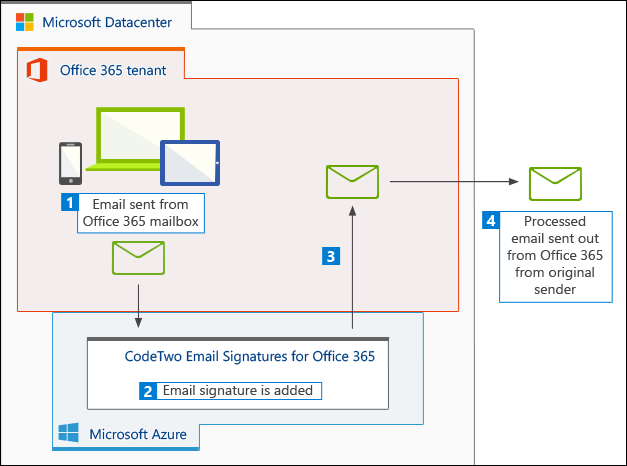 Fig. 1. Architecture of CodeTwo Email Signatures for Office 365.
Security and performance
Even though CodeTwo Email Signatures for Office 365 reroutes your email via a 3rd party Microsoft Azure service, it is absolutely secure for your business.
The program:
does not accept emails from random mail servers. Only emails received from Office 365 tenants registered with CodeTwo are processed;
does not move emails for processing to third party servers. The CodeTwo Email Azure Service is installed on Microsoft Azure servers which host Office 365 tenants, therefore emails never leave Microsoft's servers;
does not store, copy or forward your emails anywhere. Received emails are released back to the original server and deleted from CodeTwo servers after being processed;
does not log any emails content or properties other than Message-IDs and time stamps (required for proper software behavior monitoring and troubleshooting).;
does not modify any email content or properties other than:

inserting signatures into their body,
adding appropriate Internet email headers (the number of hops registered in headers will raise from x to 2x+1 where x is your usual number of hops, e.g. if normally it is 3, then after deploying CodeTwo Email Signatures for Office 365 it will be 7 - this is required by common Internet email exchanging protocols and does not affect the end-users at all),
adding three header properties (

Received

,

X-CodeTwoProcessed

,

X-CodeTwo-MessageID

) to identify already processed emails and avoid double-stamping of signatures and loop processing;

does not modify email senders or recipients. An email processed by CodeTwo Email Signatures for Office 365 looks for recipients (and their email clients and servers) exactly the same way as emails sent directly from Office 365. No shady-looking domain swaps or sending as/on behalf. Thanks to Azure OAuth2 authentication it does not store any clients' credentials;
does not delay emails delivery more than a few seconds. In our tests, with average Office 365 standalone email delivery times of around 40 seconds, CodeTwo processing costs only around 8 additional seconds;
is bottleneck-resistant. As CodeTwo services are installed in Microsoft Azure cloud, their processing power is fully scalable.
Requirements
As CodeTwo Email Signatures for Office 365 works completely in the cloud, there are no requirements when it comes to the admin's or users' computers. No permanent components are installed on any client-side on-premises server or workstations.
We only expect that you have a supported Exchange Online / Office 365 plan and Global Admin credentials for your organization's tenant and one of the modern, Windows-ran web browsers (Internet Explorer 9 or higher is recommended).
Before installing, please familiarize yourself with this Supported platforms and requirements article.
Software installation and initial configuration
Setting the software up is as easy as going through the configuration wizard. Unless chosen otherwise, the software will automatically create connectors to your Exchange Online and open the CodeTwo Email Signatures for Office 365 admin console. Find out more on the installation and configuration process in the Installation process article.
Installation administration and signature rules management
Since the software is installed in the cloud and no local components have to be in place, managing the software installation is basically limited to making sure you have it licensed. All the time you normally waste on maintaining, updating or troubleshooting on-premises installations is saved and you can now enjoy using software built-in WYSIWYG editor to compose your perfect signature. This Installation process article also covers basics of using the editor.
Usage
For the end-user the software is completely transparent. As the CodeTwo Email Azure Service works in the cloud, the process of stamping signatures to emails is invisible and independent from the end-users' email clients or their actions. Once configured and started, CodeTwo Email Signatures for Office 365 will add signatures to every email sent from Office 365 accounts that meet your rules conditions. Signatures are added regardless of the email client used - it works with OWA 365, Outlook and other popular email clients - both desktop and mobile ones.