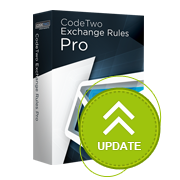 We have just released an update to CodeTwo Exchange Rules PRO, our email flow, content and signature and manager for Microsoft Exchange. The new version is free for CodeTwo Exchange Rules PRO 2.x license owners (install on top of your current version). It includes several minor bug fixes and 5 new features.
Among the new features, there's one we're particularly happy to deliver to our users, namely:
Processing encrypted and digitally signed emails
For most Exchange veterans the title probably says it all. But in case anyone is still confused – starting with version 2.2.1, CodeTwo Exchange Rules PRO allows for applying several actions to encrypted and digitally signed messages either directly or by wrapping them in an envelope of a new email. Thanks to adding the new Secure message type criteria, our application now also allows for excluding encrypted and digitally signed emails from processing, as well as doing the opposite: creating dedicated rules for these special message types.
One scenario where the new feature may come in useful is stamping encrypted emails with disclaimers.
Continue reading 'How to add signatures to encrypted emails on Exchange'